Community Profile
clairvoyantwank's Journal
Free Account
Created on 2004-07-29 23:17:53 (#4975), last updated 2019-05-31 (73 weeks ago)
2 comments received
1 Journal Entry, 0 Tags, 0 Memories, 0 Icons
About
| | |
| --- | --- |
| Name: | ClairvoyantWank |
| | |
| | |
| Membership: | Open |
| Posting Access: | All Members |
| | |
Mini Bio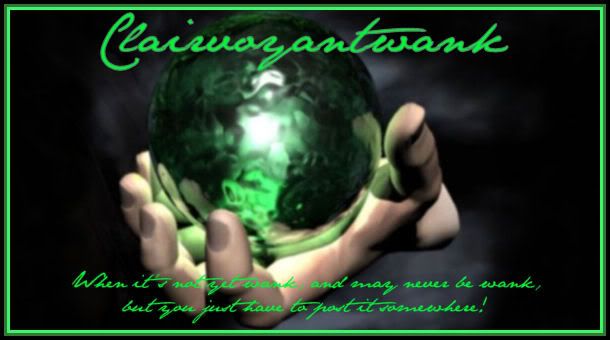 For all those unhatched baby wanks. Your choice of fried wank, scrambled wank, wanks Benedict or Wankbeaters. Do post a link to where the wank might be, should it develop. We reserve the right to mock the lack of wank.
Also, the rules here are the same as the ones on
fandom_wank
:
1.
Do not link to or share content belonging to a minor.
2.
Do not troll people who show up on CW.
3.
Do not link the subject of the wank to CW.
4.
Do not troll or flood CW itself.
6.
Do not link to locked material.
This is not a 'wank comm' rule. This is a blanket JF rule. It applies to all journals on JF.
7.
Do not delete a post you have made unless asked to by a moderator.
8.
"Please don't be an idiot. Thank you."
We realize that this is not an option for some, but for those who have a choice, do try.
If you need clarification, the details are spelled out
here
.
Direct any questions about Clairvoyantwank to the mods
wankprophet
,
sepiamagpie
or
littlebitca
.
Administrators
Members (13):
ashenmote
,
back_in_black
,
caffeine_fairy
,
darksumomo
,
eemilyvr1
,
ethernity
,
herdivineshadow
,
malleo
,
phosfate
,
realitydeviant
,
snacky
,
spawn_of_kong
,
white_serpent
Subscribers (14):
Linking
To link to this user, copy this code:
On JournalFen:
Elsewhere: